Better talent.Better relationships.Better results.
By placing our team, clients, and talent first, every day we make a difference. That's our mission, and when you're working with Advanced Resources, you can expect to experience service and results that reflect our REAL values: Respect, Excellence, Accountability, and Leadership.
Our goal is your success.
Consulting Services
Advanced Resources' Consulting Services combine sophisticated expertise with flexibility and dedication. We're partnered with you at each step, from definition and scope all the way through to success.
We work hard to create a new standard of excellence in our industry. Don't just take our word for it ... see what our valued clients and talent have to say about Advanced!
"Advanced knows what I'm looking for and they find the right talent to fit our culture and the skills we need."
"Excellent experience! Fair and honest recruiters who worked hard to help me find a great position and continued to follow up long after I was placed. Would highly recommend!"
"I rely on Advanced for the best talent, competitive rates, and for creating a positive experience."
"Advanced gave a competitive salary and they have a great reputation with their clients."
Original thinking and fresh insights: our blog gives you the knowledge you need to succeed in today's dynamic, competitive landscape.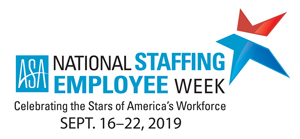 Advanced Resources is excited to celebrate National Staffing Employee…